Seal rescue
Trainees are taught how to assess, give first aid, handle and lift an injured or stranded seal pup safely. Each delegate will have the chance to try out their newly learned skills on a life sized model seal pup.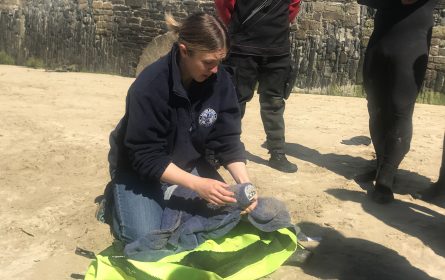 Dolphin rescue
Trainees are taught how to assess a stranded dolphin or porpoise on the beach. They are then taught cetacean first aid skills plus handling and lifting techniques using a life-sized, water-filled model dolphin.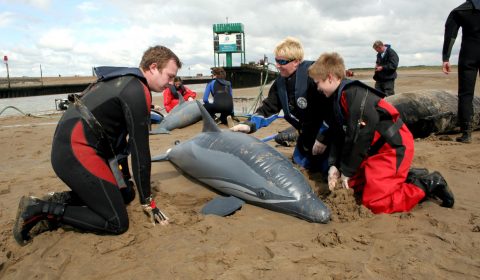 Whale rescue
Using BDMLR's specialist lifting pontoons, trainees learn how to refloat a two tonne, life-sized model pilot whale. The model is filled with water and very life-like. It is not unusual to have members of the public offer to help as they believe it is real!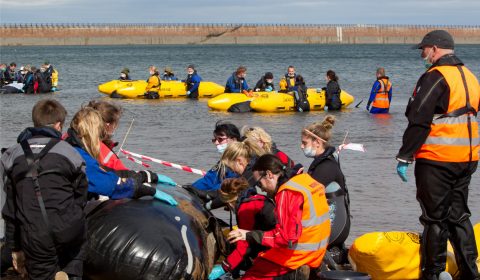 The course will, at an appropriate point, break for lunch. Lunch is not provided, but where possible the course details will give information on places to buy food, although participants are encouraged to bring their own food and drink.
The course finishes when everyone has completed each module, usually about 4.00pm. After which, there is a final de-briefing where a course pack is handed out to delegates.
The course pack includes:
A Marine Mammal Medic Handbook
A Medic photo-ID card
A Marine Mammal Medic woven badge and car stickers
A certificate proving you have completed the course
The course fee includes hire of a lifejacket, your first year's subscription to BDMLR and third party insurance cover while on rescues.
Please note: BDMLR strongly advises you bring a dry suit for this course, whatever the weather. For the practical sessions you will be in and out of cold water and if you only have a wetsuit you will chill quite quickly.
How to book – please read carefully
To find a BDMLR Marine Mammal Medic course in an area near you, click on courses in the menu above. This takes you to a map showing the location of BDMLR's current courses. Blue symbols are courses available to book, Red are full courses.
When you select a course, a pop-up box shows the basic details such as date and address. To see the full details click on the 'go to course' link at the bottom of the pop up box. Here you will see the full course details with start and approximate finishing times, parking details etc. To book click on the blue 'BOOK' tab on the right hand side.
It is essential you fill the form in correctly as the information you provide to BDMLR will be used for its database of active Marine Mammal Medics. If you do not fill the form in correctly (answering all the questions and providing the required information), the booking will not go through.
Please ensure there are NO spaces in the telephone numbers; your email address and confirm email address match; and you are not using any special characters (except the @ in your email address)