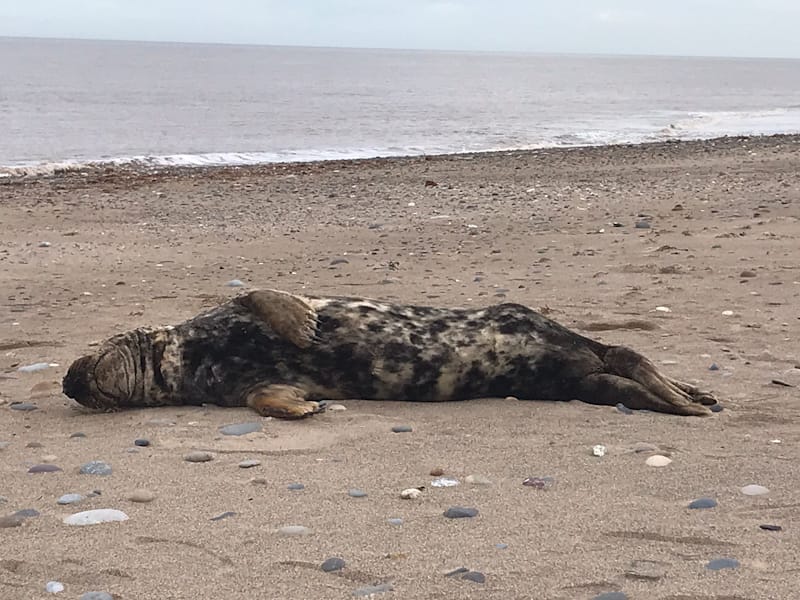 On Monday 3rd October 2022, BDMLR received a report of a large seal hauled out near a gas terminal being disturbed by local people and their dogs. It was seemingly reluctant to move or return to the water, and located around half a mile north of Kilnsea.
Marine Mammal Medics assessed the seal finding it a middle-aged male Grey, approximately 60-70kg, who was dehydrated and lethargic with some minor neurological issues. BDMLR vets made the decision to uplift the seal away from the public for a thorough veterinary assessment, as dealing with the seal on site so close to the gas terminal could prove problematic.
While waiting for the tide to provide enough access for a vehicle, a plan was formed with Yorkshire Wildlife Trust to get the BDMLR large seal crate to the seal using their 4×4 to navigate the off-road terrain.
BDMLR Medics and Members of the Yorkshire Wildlife Trust were able to quickly capture the seal using seal boards with a minimum-stress method keeping everyone safe, and once secured, the crate and seal (now weighing a combined weight 94kg) was carried to the waiting 4×4 and transported off the beach.
After a slow and gentle transfer off the beach, the crate was then manually lifted to another waiting rescue vehicle to drive the seal to a veterinary practice.
The seal was euthanised at the clinic on welfare grounds due to being significantly underweight and in poor general condition, including broken teeth and degeneration in both eyes.
We would like to extend a heartfelt thank you to the members of Yorkshire Wildlife Trust, the staff at VetsNow, and BDMLR Marine Mammal Medics who all worked tirelessly in this rescue, and who pulled it off without any complications at all.   
It's a sad end for this large male, however he is no longer suffering and has passed on to the next big ocean peacefully.
Our friends at Zeehondencentrum Pieterburen have traced his tag records and we now know he was rescued at their centre in December 2015 and named Fredrik Jakobus. He was released on the island of Schiermonnikoog the following February and has seemingly lived a life around the UK since.