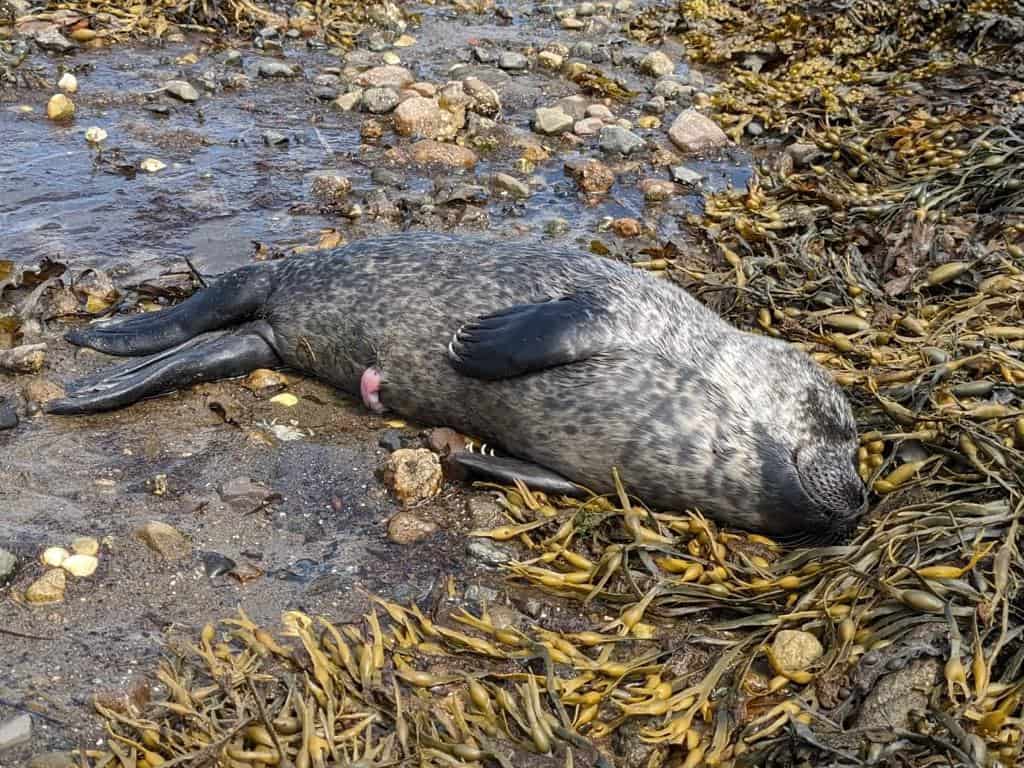 This week saw us back in full swing with numerous common seal pup rescues. All pups were under a week old and while they are often found alone on shore or in the shallows while the mother goes back in the water, she's not usually far away and will return to her pup.
Of the eleven callouts we have received in the last six days, four were in North East Scotland:
The first pup was picked up and taken for overnight veterinary treatment, unfortunately the next morning its condition had deteriorated and was sadly put to sleep to prevent further suffering.
The second was very young with a suspected infection so was taken to Inshes vets for assessment and then to Caithness Seal Rehab & Release for ongoing care.
Pup number 3 was being observed by the local ferry operator and after a couple of days it was picked up for safety reasons. Our volunteer Medic then collected it from the ferry operators and it has been taken to the SSPCA National Wildlife Rescue Centre.
The fourth pup was suspected to still be being looked after and was monitored from a safe distance, after a while the pup returned to the sea and rejoined the nearby group of seals.
We then received a call for three different pups in North West Scotland on Tuesday morning:
One pup had subsequently gone back to sea, possibly physically returned by well-meaning members of the public.
The other two pups were picked up and taken to Oban vets for assessment ahead of transport to a seal rehabilitation centre, sadly one of the pups died shortly after arrival, the other pup continued down to the SSPCA National Wildlife Rescue Centre the next day.
Our Medics have since been out to pick up another pup in a similar area which had been observed alone near a fish farm for 24 hours and concerns were rising that it too had been abandoned, the pup was located and is now receiving veterinary care and will hopefully go to rehab soon.
Observation has been taking place on the Outer Hebrides of a young pup who we hope has now reunited with the mother, but we'll continue to monitor the area in case it is seen again.
In Norfolk we saw two young pups on the same day, both abandoned leading to dehydration, they are both now receiving treatment at RSPCA East Winch.
Our final rescue was in Essex, a young pup thought to be just a few days old had been found on the edge of a river and someone thinking it shouldn't be there, picked it up and moved it to a nearby marina. This had taken away any chance of the mother ever finding it, and without knowing the exact location it had been found in, the pup was taken to the South Essex Wildlife Hospital for rehabilitation.
Common seal pups have had a very rough time in recent years with severe infection being found in pups over a month old, so while these very young pups are still critical, they do stand a good chance of recovery and future release. If you see a seal pup on its own please do not try and move it, even if it's crying and looking like it 'wants help'. Common seals are born equipped to be in the water for short periods of time but they should not be moved off the beach, the mother could be out there watching. Please call our rescue line on 01825 765546 for advice and for a certified volunteer to help.
We would like to thank Oban Veterinary Surgeons, Inshes Veterinary Centre and Thurso Veterinary Surgery for treating the seal pups as we pick them up, ensuring they are well enough to travel the often long distance to a seal rescue centre. A huge thanks also to our volunteer Medics and rescue hotline coordinators with the sudden influx of seal pups.
Photos: Emily Woolard (above); Gordie Bryce (below)