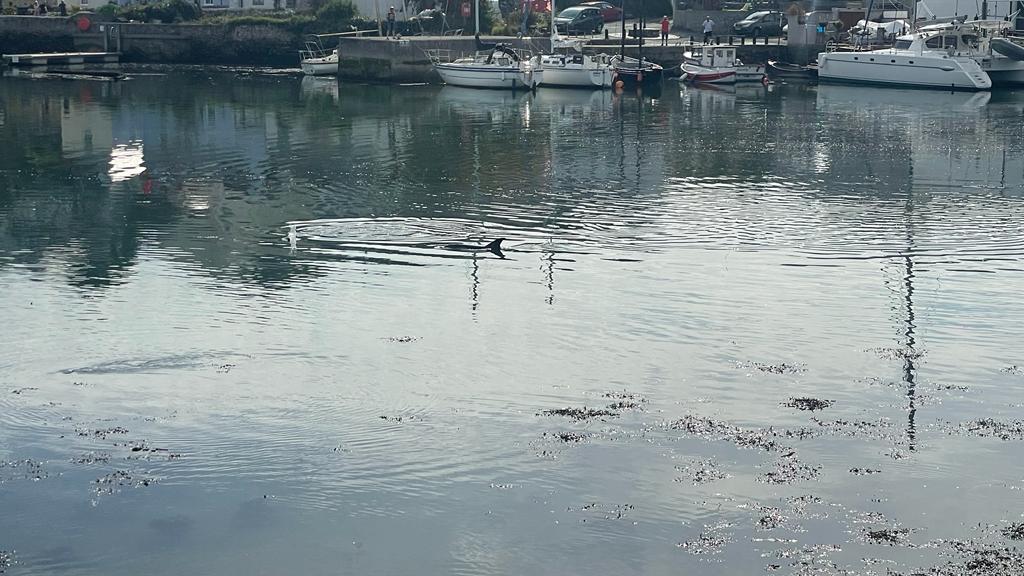 BDMLR Medics were called out to monitor several (between three and five) dolphins swimming in Hooe Lake, a shallow and tidal area south east of Plymouth on Friday 8 September.
The dolphins had entered the lake overnight and local residents were worried the animals could strand. Medics arrived a few hours before high tide and it was hoped the animals would find their way out safely. The lake was busy with paddleboarders and kayakers and a request was made to the Harbour Master to keep people away from the dolphins, so as not to panic them and cause unnecessary stress. 
The animals unfortunately decided not to leave the lake and continued feeding on mullet which were abundanct in the lake. As the tide fell, the dolphins thankfully moved into the one remaining deep water channel keeping themselves safe while crowds, which had gathered, watched on. Common dolphins are highly intelligent and social animals with distinct feeding behaviours, they can adapt well and demonstrate remarkable survival strategies within their marine environment when given the chance. As they had already made it through one low tide cycle, we continued to observe their behavior putting on hold attempt to try and encourage the dolphins into open water. And at around 5pm, the dolphins left the lake. 
On Tuesday 19 September BDMLR received another alert about a single dolphin in Hooe Lake. With the weather being less favourable for watercraft there was little disturbance to be concerned about, and after a period of observation the dolphin left the lake at around midday with no further animals seen.
Thank you to the Harbour Master and Falmouth Coastguard for providing water and land support, and to the local residents for their expert local knowledge which was a great help to our volunteers.