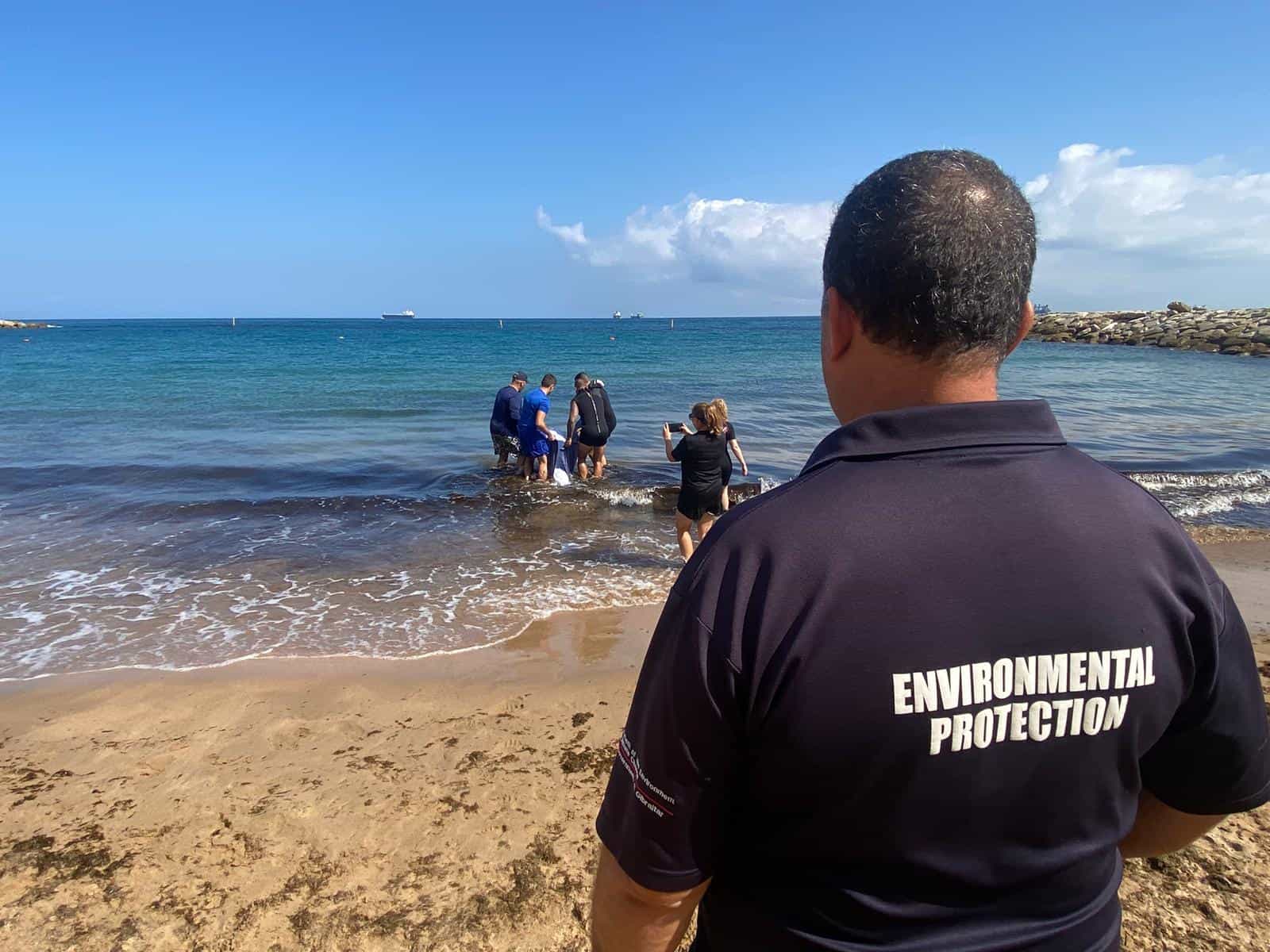 This week our Director of Welfare and Conservation, Dan Jarvis, and Area Coordinator for Cumbria, Sarah Neill, have been in Gibraltar delivering three days of cetacean live stranding response training. The request came through earlier this year from Clive Crisp, Environment Officer at the HM Government of Gibraltar's Department of Environment, Heritage and Climate Change, in conjunction with local researchers and NGO The Nautilus Project.
This marks the second time BDMLR has collaborated with colleagues in Gibraltar, following initial training for the team in 2019 that was also delivered by Dan and Sarah. During their most recent visit they conducted two training courses with morning lectures on identification, biology and ecology. This was followed in the afternoon with practical sessions on the beach with our whale and dolphin models on how to provide first aid, carry out a health assessment, refloat a dolphin with a tarpaulin and a whale with specialist refloatation equipment. On the third day it was then an opportunity for some of the team to respond to a whale stranding exercise, being called out as if it were the real thing during work hours and having to travel to the scene, assess the situation and respond appropriately. Clive and Sarah provided role play characters during the event for them to interact with, while Dan facilitated animal health condition and updates as the situation unfolded.
It was also a great opportunity to exchange experiences and operational procedures between the regions, as well as knowledge around other collaborative conservation projects that all could benefit from in the future. Having the chance to go out on the water to see observe and learn about the local common dolphin population, who have a lone female bottlenose dolphin 'Billie' who has lived with them for many years, was a notable highlight. Additionally, in Sarah's profession as a lecturer at Kendal College teaching wildlife conservation, rehabilitation and marine biology it was especially the links made with The Nautilus Project that were especially fruitful in hopefully providing an excellent variety of hands-on work experience options for students there in the future.
We would like to thank Clive and the rest of the DEHCC team for inviting BDMLR back, we are very pleased to be able to continue our collaboration and hope to work together again in the future. Thank you also to Rocio Espada for her valuable insights into local cetacean research, as well as Lewis and Melanie at The Nautilus Project for inviting us to visit their lab and to further discuss conservation projects and efforts.