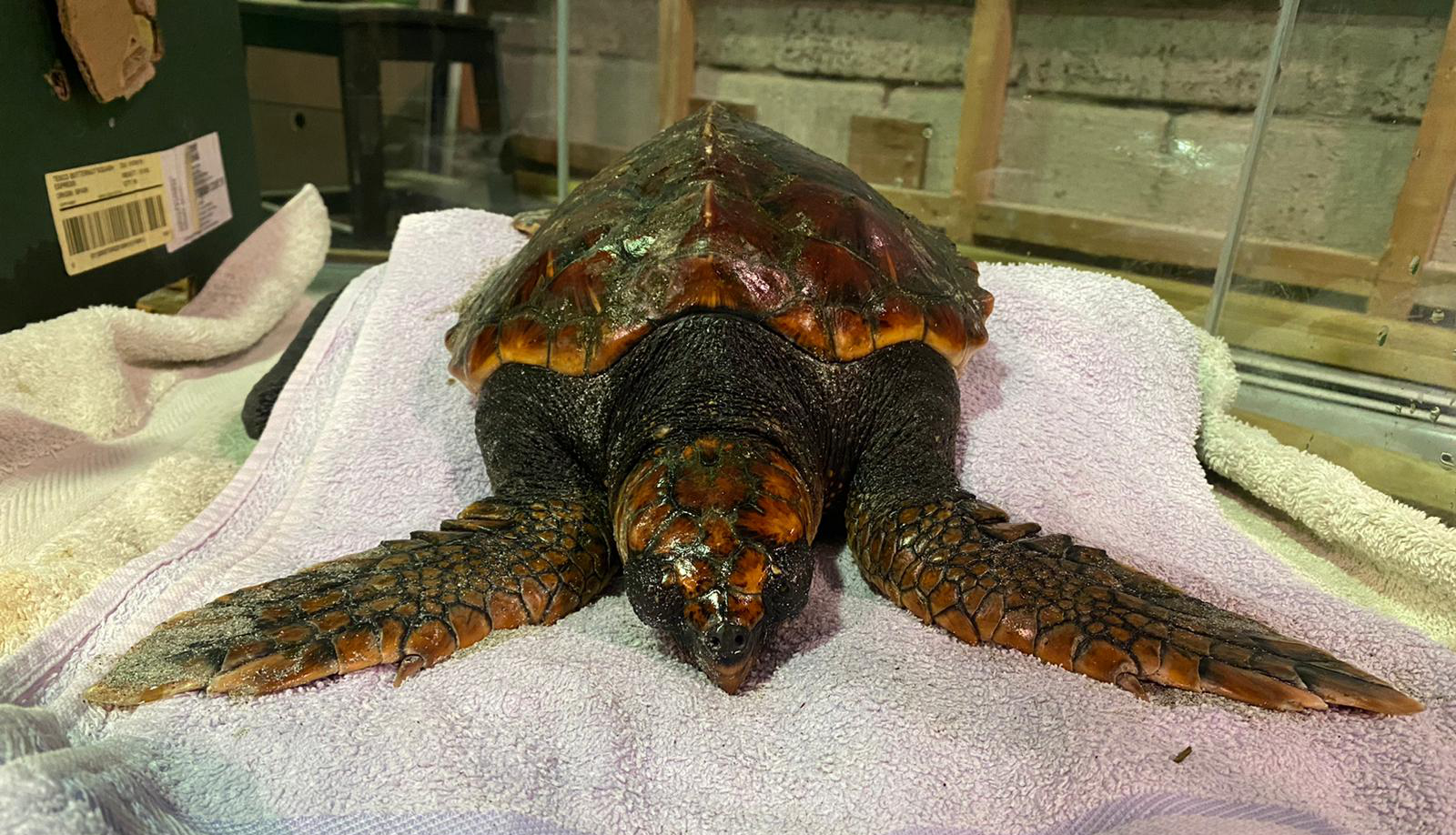 A young loggerhead turtle washed up on a beach on the Island of Iona in the west coast of Scotland on 27 January 2022. It was reported to BDMLR by a member of the public who was surprised to find the marine reptile so far north.
If it was to have any chance of survival, BDMLR needed to get it to the mainland, so under our instruction, the Iona resident picked the turtle up and took it on the ferry to Mull where a Marine Mammal Medic collected it and transported it to mull aquarium where it spent the night. It was then picked up the following morning to be taken on another ferry to Oban where a medic greeted it and transported it to Loch Lomand Sea Life Centre for rehabilitation.

Loggerhead turtles are a tropical and sub tropical turtle species which enter the Gulf Stream when born and can find themselves pushed too far north to survive. They wash up in the UK most years and are normally smaller, weaker animals. As reptiles, they are cold blooded and need warmer sea temperatures to thrive and in the cold north Atlantic get severely hypothermic, malnourished and dehydrated and their body shuts down. Many wash up dead, but the ones found alive and reported to BDMLR go to rehabilitation in aquariums that are familiar with their care and have facilities to treat them. If they survive (that's a big 'if', as often they are already too far gone) then they are returned to the wild in places such as the Canary Islands. This turtle will have to have its body temperature increased very gradually to avoid thermal shock, so the water temperature will be adjusted incrementally.
BDMLR would like to say a massive thank you to all parties involved, as everyone really came together to help this turtle and give it the best chance of survival, we couldn't be more grateful!
Flippers crossed for this little one!
Photos: Chris Sharples