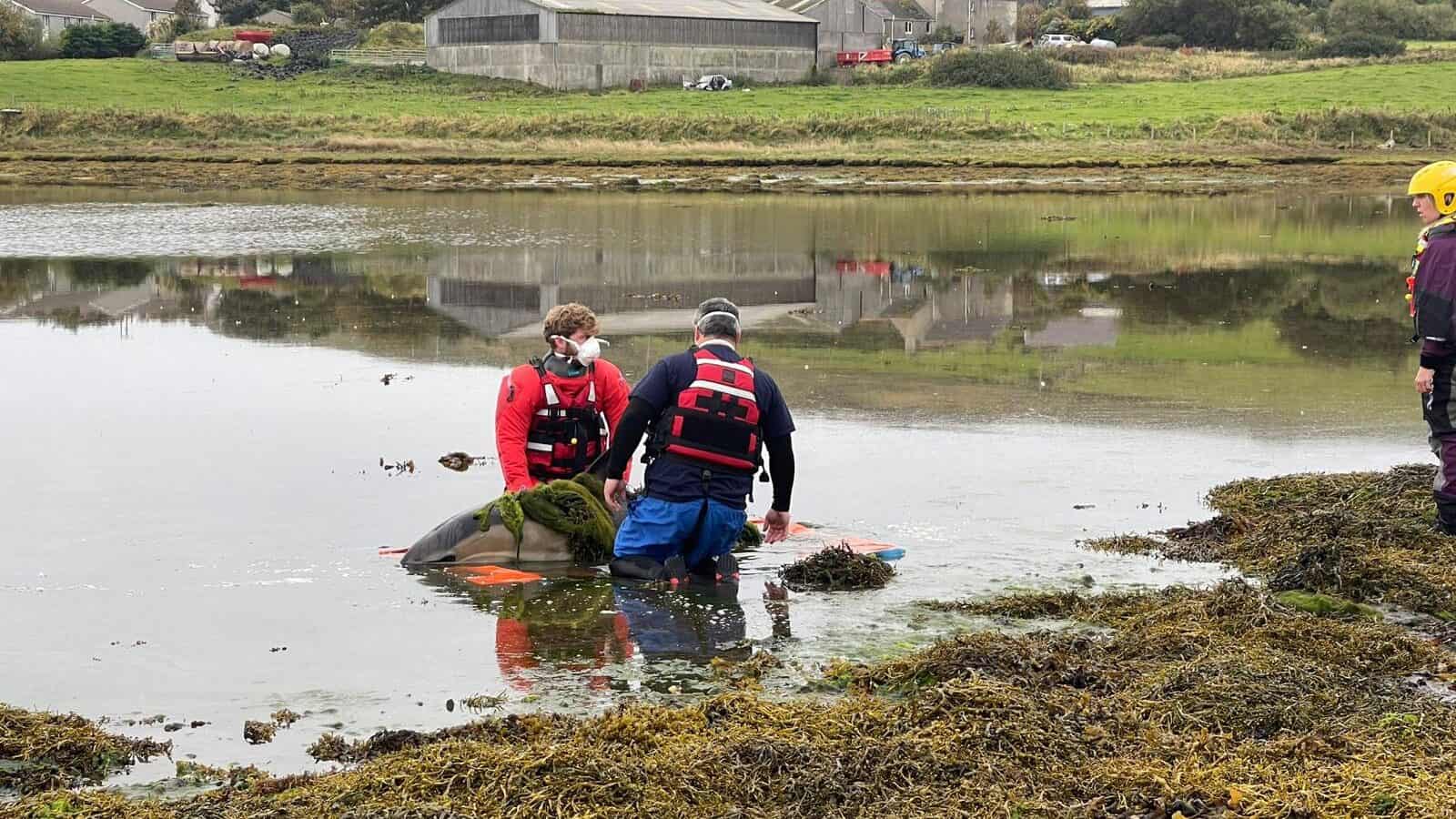 BDMLR Medics responded to a report of a stranded dolphin in Finstown, Orkney at 10am on Thursday 5 October. On arrival, Medics found the dolphin along with a second unreported animal.
Full assessments were carried out with the help of a local veterinarian and the dolphins were found to be 2.1m and 1.6m in length, both female and in good body condition, and as good rescue candidates the decision was made to refloat both animals. However, they were in a difficult location and needed to be moved a short distance by road to open water so, with help from a local farm, both were loaded onto a flatbed trailer which was kindly made available to us. In convoy with the local HM Coastguard team, the short journey was made to the nearby Finstown slipway; a far better location. 
The dolphins responded well once returned to the water and Medics continued to support them until their muscle tone had returned and they began heading out into deeper water. Although both appeared to swim strongly the dolphins did not move away from the immediate area and over the course of the next hour made their way back towards The Ouse.
Unfortunately both animals swam straight under a narrow bridge back into The Ouse about an hour and a half after they had been refloated. As the weather deteriorated Medics continued to observe the animals free swimming in The Ouse hoping they may have made their way back out. Whilst monitoring the dolphins, Medics noticed the larger animal appeared to be leaning quite heavily to one side and was struggling to swim in a straight line, and the smaller was repeatedly pushing her to try and keep her swimming straight.
At low tide the larger of the two dolphins stranded again and at this point the decision was made by Medics and the local vet that the best option was for her to be euthanised. As darkness had now fallen Medics began conducting systematic sweeps of the shoreline in search of the second animal which was now at high risk of stranding due to the low tide.
Within an hour the smaller animal was discovered laying upright on the mud and Medics, alongside HM Coastguard officers (acting as safety cover), recovered the dolphin to a waiting trailer where a new release site was chosen. The dolphin was taken to nearby Tingwall where a second attempt was made to return her to the water. Medics supported the dolphin for around half an hour before she was ready to go and once released she gave some powerful kicks and began heading into deeper water. The rescue team stood down soon after midnight after what had turned into a 14 hour long rescue. 
This rescue involved a huge amount of work by a large group of Medics and supporting organisations. We would like to thank all the Orkney residents who offered their support with vehicles and trailers or with coffee and cake, and to Flett and Carmicheal Veterinary Surgeons for their continued support. We would also like to thank the local Coastguard team which provides us with safety cover, without which we wouldn't be able to carry out this sort of rescue.
Photo credit: Frank Holmes