Following the initial mass stranding of five pilot whales and their subsequent refloat at Culross, Fife, on Tuesday 4 December, the animals remained in the area on Wednesday at nearby Newmills.  Unfortunately, at around 2pm three of the animals stranded again at around high tide in a very difficult to access area.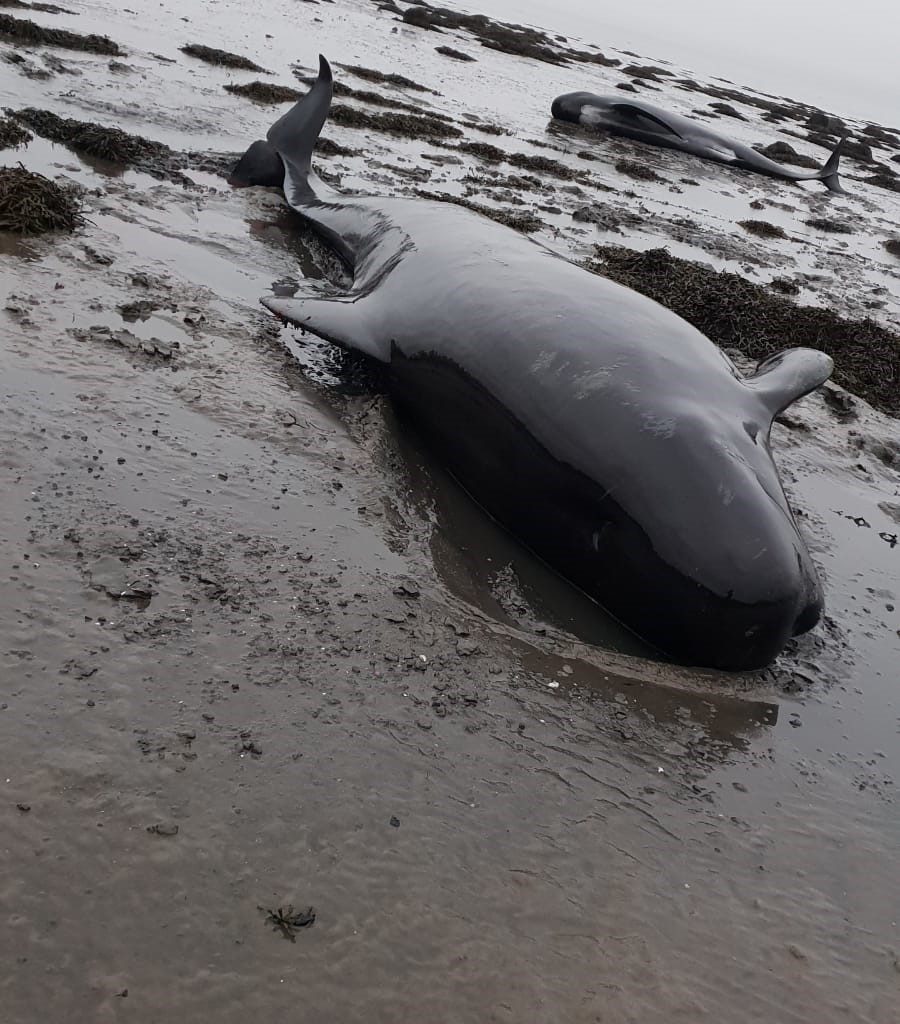 BDMLR Medics attended again along with the Coastguard, Fire and Rescue Service, Special Operations Response Team and Network Rail, who were all instrumental in gaining safe access to the animals to enable first aid and assessment to be carried out. It became evident early on that this would be an extremely challenging situation as the whales (two males and one female) were stuck in thick mud, and efforts to get the whales upright into a more comfortable position proved difficult since they would slide straight over again as soon as they moved.
The rescue team carried out what first aid they were able to do given the circumstances they were faced with, while a veterinarian also attended the scene to assist and relayed information back to our colleagues at the Scottish Marine Animal Strandings Scheme. With the tide not due back in until 2am in the morning, whale rescue pontoon sets from around Scotland were organised and sent down to the site in case a refloat attempt was viable later.
Hours later and in darkness, the exhausted team were still out there trying their hardest to keep the whales comfortable until the incoming tide made it too dangerous to remain. At midnight the team had to withdraw for their own safety while the whales, all still alive, refloated again on the high tide. Medics are currently back out on the coast this morning searching for them again, and further updates will follow as and when new information becomes available.
In the meantime, we would like to express our heartfelt thanks to our volunteers, Coastguard, Fire and Rescue Service, Paramedics and Network Rail who were out on site in cold, awful conditions for many hours, and it was mentioned during the debrief afterwards that communication between all the agencies involved had been excellent in spite of the incredibly difficult scenario.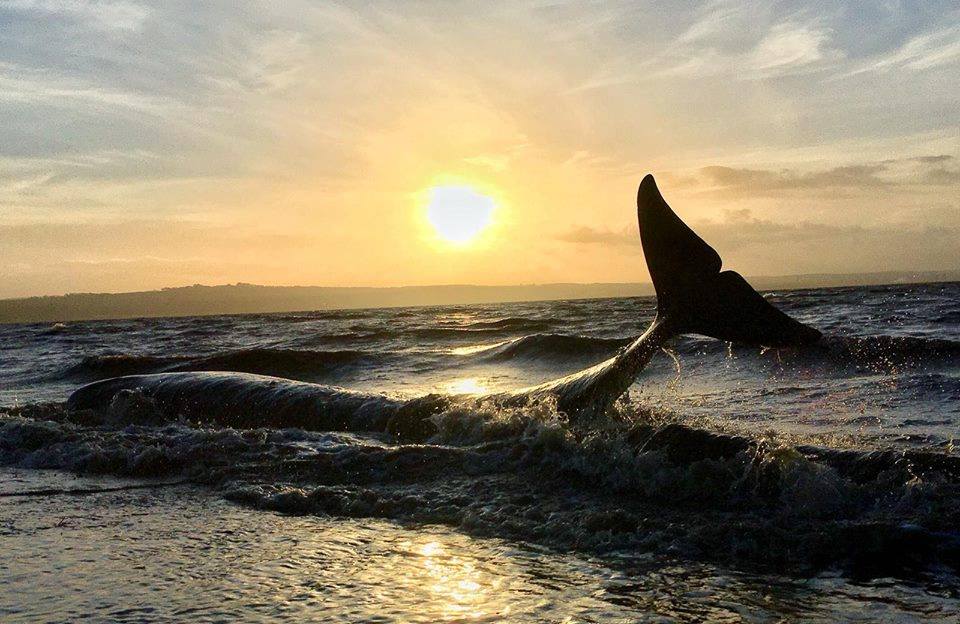 Sadly, the fourth whale that was being monitored by our team became stranded on the shore at Torryburn during Thursday afternoon. It was also in a poor state of health by this stage and again a decision had to be made by the veterinarians to put it to sleep and end any further suffering.
The Scottish Marine Animal Strandings Scheme are today carrying out post mortem examinations on all four deceased animals to further investigate this incident in the hope that it may reveal why they may have gotten into difficulty. A fifth whale that was sighted only on Tuesday remains missing and may still be in the area. We would ask anyone that spots it to please report it urgently to our emergency hotline on 01825 765546.
This has been one of the most protracted, logistically challenging and emotionally draining incidents that BDMLR's Medics have had to deal with in recent years. Many of our team have been out on all of the days for many hours in freezing cold, windy, wet and muddy conditions trying to help the whales in incredibly difficult circumstances where the odds have constantly been against us. It really is a struggle to find the words that convey how truly difficult and heart-breaking this incident was for us all to deal with both physically and emotionally.
We would especially like to thank each and every member of our team that were involved both on the ground and on the phones for their dedication, determination and compassion over the last few days. Every single one of them is a credit to BDMLR and represented us with great professionalism in the face of the many challenges that were thrown our way. Again, it is difficult to find the right way for us to express how grateful we are to have such amazing and brilliant people in our organisation who are so willing to give so much to what we do as a charity.
We would of course like to thank our colleagues at the Scottish Fire and Rescue Service and Blue Watch at Dunfermline, Kinghorn Coastguard, Special Operations Response Team, Network Rail and SMASS for their involvement and support during the incident too. Without them this would have been a far more horrendous situation for us to deal with alone.
Photos courtesy James Mckenzie and Alan Cameron (BDMLR)