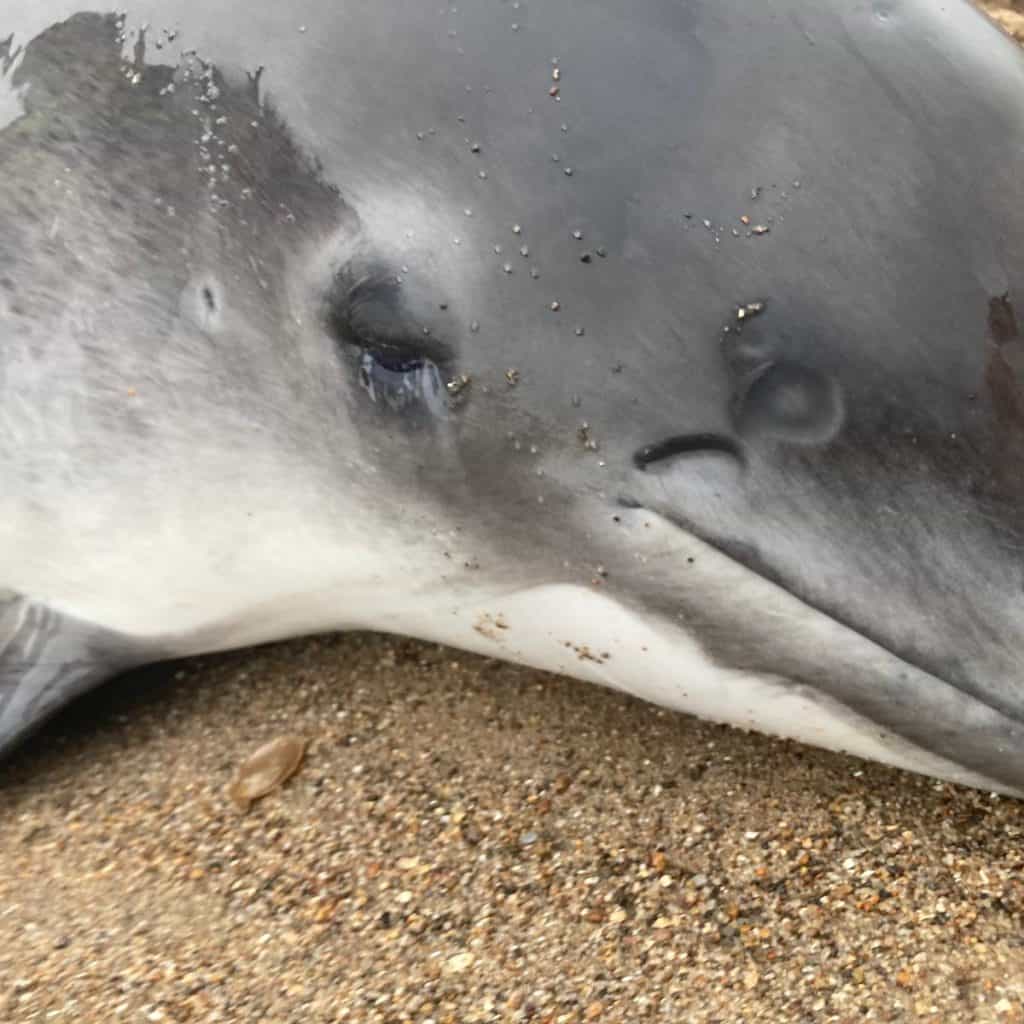 At about 17:45 on Sunday 16th August, a live stranded harbour porpoise was reported to the BDMLR hotline from Chapel St Leonard's, Lincolnshire. Initial first aid advice was provided over the phone by our Out Of Hours Coordinator Teri Charlton on the hotline, while a team of trained volunteer Medics from across Lincolnshire and the Midlands were tasked to the scene.

The member of the public, Carol, did a great job of supporting the animal and providing the first aid as guided by Teri until the first Medics arrived to take over. Initial health assessment was commenced and photos sent through for our Veterinary Support Coordinator Natalie Waddington to help with this and for decision-making. In the meantime, the Skegness Coastguard team were also called for assistance due to the stormy conditions, as well as Matt from Skegness Natureland Seal Sanctuary who was able to help with bringing equipment to the scene too.

The assessment of the animal showed it to be in moderate-good body condition, measuring 1.6m long and was a female. Rather surprisingly she also apparently be heavily pregnant, with an enlarged abdomen and protruding nipples. Her breathing rate was slightly elevated at 7 breaths per minute, and it was also noted that she was holding her tail up in the air for long periods of time. Fortunately, she did not appear injured and had only some old healed scars. She was taken into the shallows as soon as possible to relieve the pressure on her abdomen to reduce any discomfort and stress, and quite quickly her breathing rate calmed to between 2 – 5 breaths per minute. There was some concern she could be in labour, but after careful checking this did not seem to be the case.

Holding her in the water in the tarpaulin was tough for the Medics due to the rough seas and inclement weather, and by this point it was beginning to get dark. The Coastguards were having to help support them Medics themselves while the held the porpoise to stay safe. In consultation with all involved, it was decided that the porpoise should be refloated while there was still an opportunity to see where she went, and for Medic safety too. An animal marker was used to identify her with an 'A' on one side of the dorsal fin and 'BDMLR' on the other for future identification before she was let go. Although seemingly strong, she struggled to get out through the waves and was knocked back a few times, eventually coming back to the shore where the rescuers managed to catch and cradle her before she was thrown up on to the beach.

It was now too dangerous to go back into the water for another refloatation attempt, so the Coastguard called in Skegness RNLI to launch their inshore boat to help the porpoise beat the waves and get further out to sea and hopefully to safety. She was carefully loaded on board and taken a mile out, where she was lowered over the side and swam off strongly. She was quickly lost in the darkness and has not been seen since, so therefore this appears to have been a successful rescue operation in very difficult conditions.

This was an amazing effort by all involved! We would like to thank Midlands Area Coordinators Hazel and Kevin, and Medics Fin, Beth and Arlene for their efforts on scene, plus Teri and Natalie on the phones providing advice and logistical support, as well as the original caller Carol, Skegness Coastguard team, Skegness RNLI team, and Natureland Seal Sanctuary for all their help too. Their combined efforts all contributed to this great outcome.

Photos: Fin Mace and Louise White.