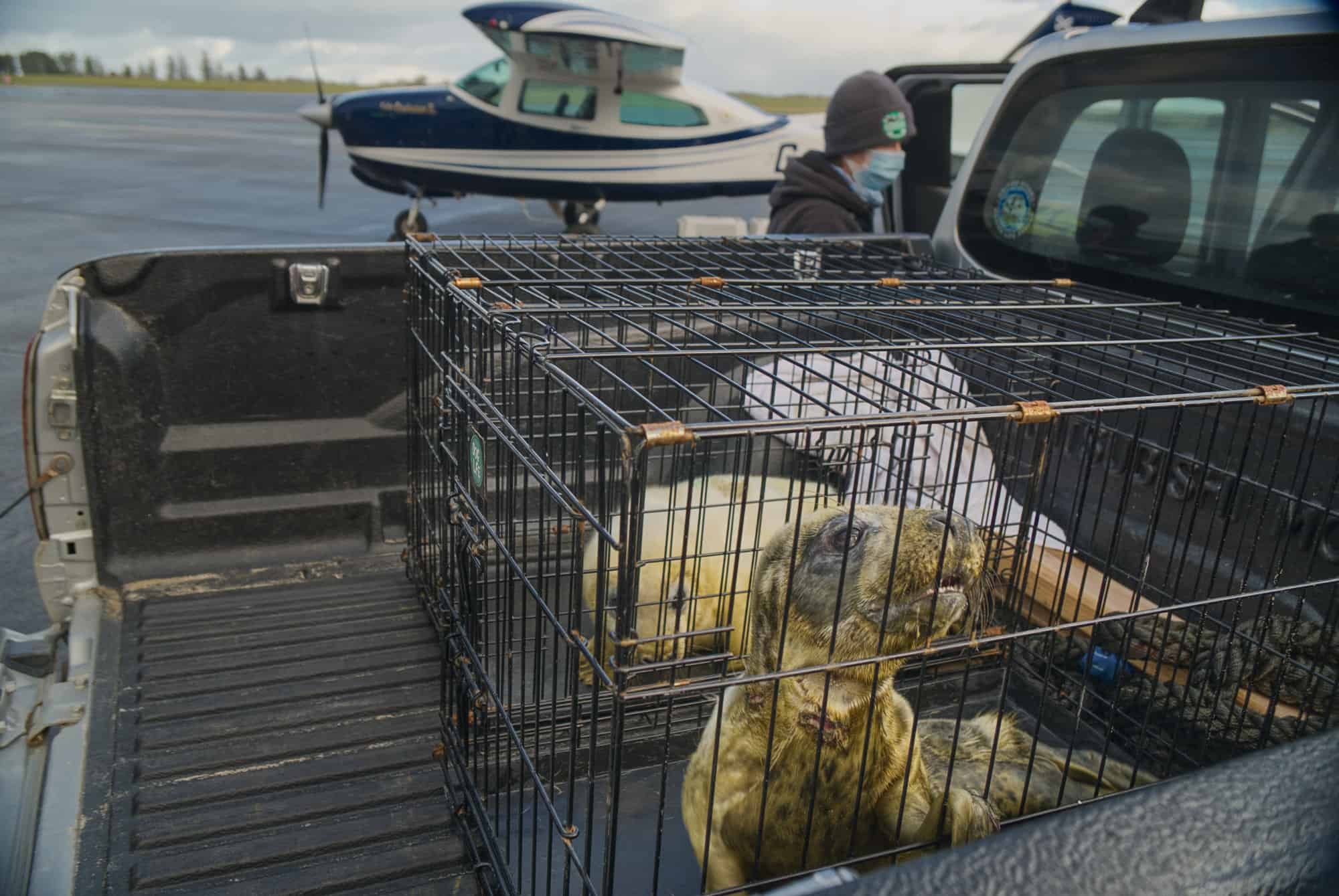 BDMLR and Civil Air Support carried out a remarkable transport of four seal pups from the storm-ravaged North of England to Cornwall last week when no space was available in local facilities.
Storm Arwen caused chaos across the North of England for people and wildlife. It arrived when seal pupping is at its height and call outs to assess and help seals affected by the storm skyrocketed. So much so that rehabilitation centres dealing with seals across the entire east coast were overwhelmed and full of casualties.
Several seal pups were without a centre to go to for immediate help, and were due to be held at veterinary clinics which can only hold them for a few days at most before they must be moved on, due to the specialist nature of seal rehabilitation.
In situations like this, BDMLR usually arranges for seals to be moved to further afield rehabilitation centres by road. However, there was no space within a three to four hour drive and the number of volunteers to drive was diminished as medics were tied up attending the hundreds of callouts BDMLR received after the storm.
However, BDMLR has a specialist seal hospital in Cornwall and a network of partner organisations it works with and it drew on this to effect this special seal transport.
Civil Air Support (CAS), a UK based charity, is the largest charitable air support organisation in Europe. It's growing membership of privately-owned aircraft operators includes fixed-wing airplanes (single and twin engine); helicopters; and gyrocopters.
CAS's primary aim is to provide voluntary humanitarian air support to organisations or individuals who would not otherwise have access to it. It helps communities, organisations, and even individuals.
BDMLR turned to CAS to see if it could help move the four pups, as by road the over 450 mile journey would be almost logistically impossible and far too time heavy for the animals to bear. Luckily, CAS was only too pleased to help.
The airlift was organised with military-like precision and CAS took care of every single part, including having a BDMLR medic as copilot. BDMLR's job was to ensure the animals were caged and waiting at the airfield at the right time to ensure minimal disturbance to the animals, and also to have a team waiting at Newquay airport for when the aircraft arrived.
The pups ranged in age from just a couple of days to around three weeks old. Some had injuries, but mostly due to maternal separation and malnutrition.
The four seals named Raven, Gannet, Flamingo and Blue tit (the hospital is using bird species names this season) were delivered to Eshott Airfield by BDMLR medics where the CAS aircraft landed after battling a stiff headwind.
The flight took two hours and the wheels touched down at 1300, which is remarkable considering the distance the seals travelled.
With the seals unloaded from the aircraft, they were checked by BDMLR Welfare and Development Director, Dan Jarvis and transported to the seal hospital.
Each animal was then assessed by BDMLR Veterinary consultant Natalie Arrow and a specialist individual care package put in place.
BDMLR would like to thank all it's volunteer medics in the North East who came out and helped monitor, rescue and transport animals to safety. It would also like to thank the pilot and co-pilot from CAS for flying the animals to safety and the CAS ground team for coordinating the flight details. Without CAS, this operation would not have gone ahead.
You can learn more about CAS at https://www.civilairsupport.com.