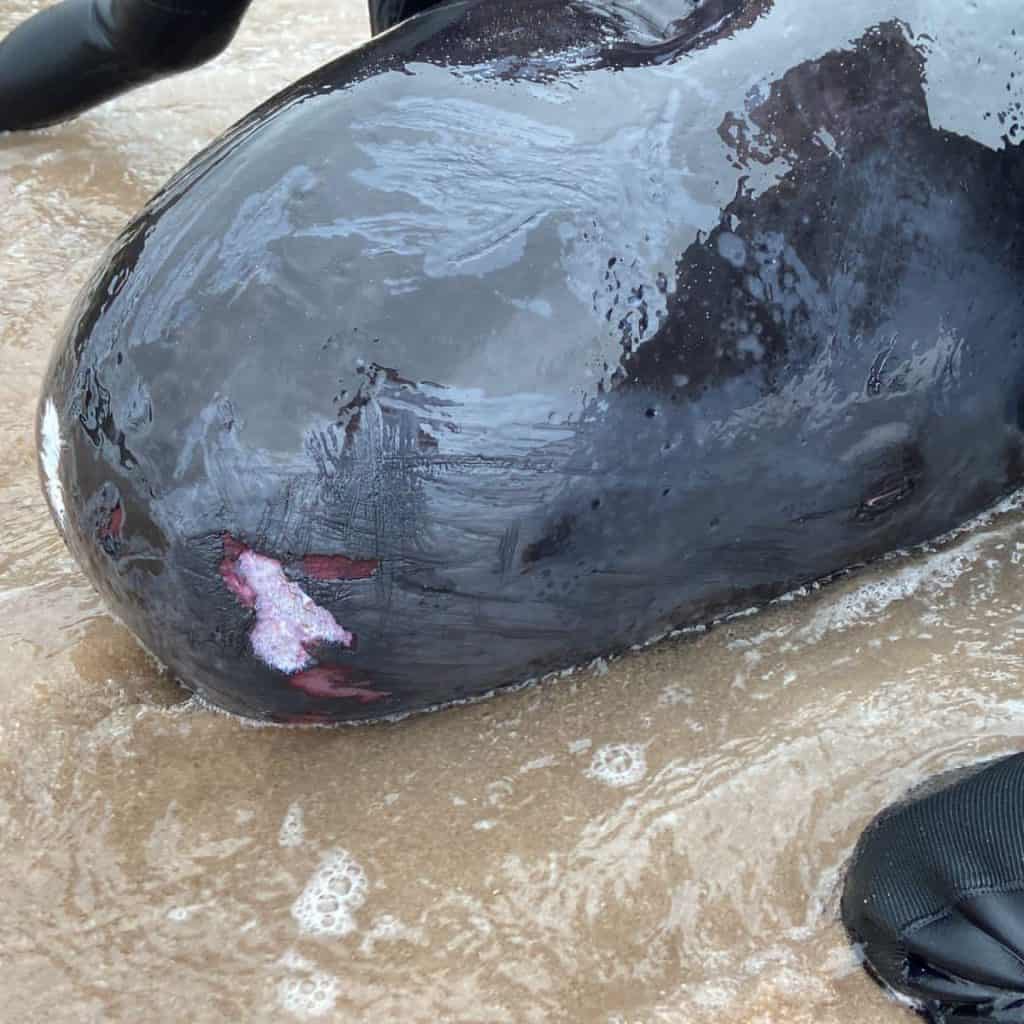 Over the last few weeks we've had a series of live cetacean strandings around Scotland that our teams have been responding to alongside local communities and other organisations including the Coastguard and Scottish Marine Animal Stranding Scheme.

2nd August.
A Sowerby's beaked whale live stranded at Ardersier near Inverness.  It was in poor health and on veterinary advice was put to sleep to relieve it's suffering.

12th August.
Two out of a pod of three white beaked dolphins semi-stranded on low tide near the causeway at Eriskay, South Uist.  Luckily the animals were not fully stranded and refloated themselves on the incoming tide within the hour.  They joined their third member and were monitored by locals in the area the following day until they left.

14th August.
A mass stranding of 12 common dolphins at Portree, Isle of Skye.  Three of the animals sadly died, however the rescue effort succeeded in refloating the other nine dolphins back out to sea in a tremendous effort from all involved.  Our colleagues from SMASS attended to retrieve the deceased animals for post mortem examination.

16th August.
A lone pilot whale live stranded near Durness, Caithness.  It was in poor condition but refloated on the tide before a vet was able to attend.  Sadly it subsequently restranded further out a few days later and died.

17th August.
A minke whale live stranded at Levenwick, Shetland Isles.  A huge effort from BDMLR volunteers and community members succeeded in refloating the animal, which was a juvenile in good condition.  It was supported in the water for some time until it regained its composure and went off, and was even spotted further out with a larger whale later on!

21st August.
A pair of Risso's dolphins live stranded near Durness were tended to and refloated.  One of the animals was listing to one side however and swam in circles for some time, but they eventually moved offshore.

11th September.
A stranded cetacean was reported at Loch Fleet, however upon investigation it turned out to be deceased already and was passed on to SMASS.

23rd September.
A fin whale entered the Moray Firth and was at risk of stranding.  Our Marine Mammal Medics monitored the whale for almost a week until no more sightings were reported.

We would like to give a huge thank you to all of our volunteers, community members and other organisations who were involved in these incidents for their efforts.  We are very thin on the ground in the far north west of Scotland, and we have just set up a training course in Durness on the 16th October to try to grow our team in the area to help with marine mammal response in that region.  If you would like to book on or know people who would then please follow the link here: https://bdmlr.org.uk/course/durness-mmm-course-sunday-16th-october-2022-wet-course

In the meantime, here is our advice on what to do if you find a seal or cetacean in distress: https://bdmlr.org.uk/what-to-do-if.

Photos: Harry Martin, Neil Corbett.