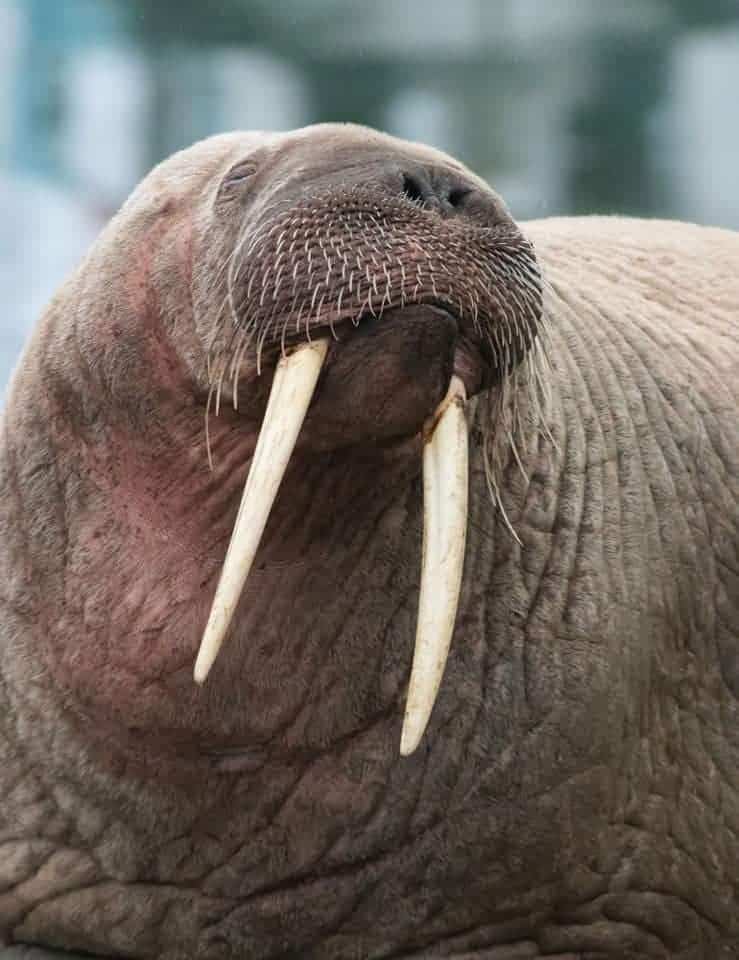 At 11.30pm on 30 December 2022, Scarborough Sealife reported to BDMLR that a Walrus was hauled out at Scarborough.  The initial response was "Are you joking?"! 
The closest medic was tasked to check out the area, who met up with Sealife staff on scene who confirmed a Walrus was sitting asleep on a slipway in the middle of town. North Yorkshire Police – Scarborough response team promptly established a cordon of the area, and Yorkshire & Lincolnshire Coordinators Chris Cook & assistant Em Mayman began sorting kit that may be required for the response anticipated to last a while.
They arrived on scene at 2am and with Sealife staff and an RSPCA lead wildlife officer, held the cordon and dealt with securing the area. This included the Scarborough Harbourmasters having to pre-emptively section off parts of the walkway to the right hand side of where Thor lay, to avoid him being surrounded by the public when the sun rose. Understandably the unusual visitor attracted attention and the Police Response Sergeant could not do enough to facilitate Thor being kept safe, including being immediately contactable should their help be needed. Scarborough Police officers & PCSOs were on regular patrol throughout the entire response and their help included having to deal with a small handful of difficult members of public, and one person breaking cordon and entering private property attempting to access the Walrus for photographs.
Thor demonstrated some natural male behaviour over the evening and decided after a few hours that his rest against the wooden structure in the middle of the harbour slipway had come to an end, he made his way down the slope. We hoped that he would swim off out of the Harbour and his visit would be one of almost disbelief and mostly rumour by the morning. Instead, he got himself comfortable and fell asleep again.
Over the hours that followed, increasing public interest meant his presence was now known nationally on Social Media and in the press, and was being reported further afield. More public arrived, most noticed to be taking photos and standing in disbelief – presumably floored by seeing a Walrus! Medics having had a sleep overnight started responding to a simple monitoring request put out at 6am and a rota was pulled together for continuous observations. Kind public asked many questions, offered and bought hot drinks and food, and expressed their appreciation of Thor being protected, with the overwhelming majority being immeasurably respectful to our visitor.
At all times the crowd was at least 350 thick, at one point seemingly over 500 people were there with more bodies continually appearing from all avenues, roads, and even bus trips. It is estimated several thousand people were in attendance over the whole day though likely far more. Thor continued to sleep, having an occasional reposition and brief look around. It was noticed during the night that he was agitated by a few noisy vehicles passing with bright lights. This led us to consider the New Years Eve firework display due to be held in close proximity to Thor's location, and the New Years Day annual dip. The NYD Dip would continue to monitor the ongoing situation and would put plans in place to ensure all parties safety if the Walrus was still resting on the harbour. BDMLR HQ spoke with the local Council & Liaison Officers who explained the situation regarding fireworks to all council members who without reservation agreed the firework display would likely cause stress and alarm to the Walrus, and therefore was cancelled without hesitation. This was an incredible step forward for animal welfare which has been tremendously backed by the public, official parties, and the media.
Thor, who continued to sleep throughout the day, was now being reported far and wide, which attracted visitors from other ends of the country and one family from France! Many media outlets arrived for interviews and recordings, and we would like to thank those from the press that put the welfare of the Walrus first as well as respecting our volunteer Marine Mammal Medics and Sealife staff as this made their task of ensuring his welfare was upheld considerably easier.
Thor only awoke briefly to move up further from the incoming tide, and resumed sleep. Dynamic risk assessments were being regularly conducted as Thor shuffling further up the slipway meant there was a greater risk of him accessing the public footpath and highway. BDMLR vehicles were repositioned at the top of the slipway along with pig boards from the Sealife Centre, in preparation should this occur. A cordon had to be moved back due to increasing numbers of public pushing forward on an unbarriered section of walkway and were filling the road which caused concern for public safety. Sadly this meant some members of the public continued to stand in the road, so the cordon was later repositioned again by North Yorkshire Police to try and establish a safer environment for all. The crowd slightly lessened as the rain returned, though there were a solid 300+ people at all times.
By 4pm Thor was becoming slightly more active, and at 4.30pm he sat up, turned around, and promptly slid off into the harbour. A cheer erupted from the crowd, while BDMLR Medics scrambled with radios to track which direction he went. This was assisted by some local youngsters who saw him swimming, and we confirmed that he had swam off out of the harbour. All other organisations were alerted, and Medics relocated to other areas of Scarborough to check Thor hadn't hauled out elsewhere. Back at the harbour, the crowd had largely dispersed with some members of public still pouring in asking if he was still there as they'd only just heard of his existence but were met with an empty slipway other than the BDMLR Medics and Police in attendance.
The area was cleared of Police tape and barriers, and once all locations were checked the Marine Mammal Medics stood down and returned home. Very soggy, a little chilly, and considerably exhausted though elated from an unusual rescue.
BDMLR would like to extend their immense gratitude to everybody involved including our Marine Mammal Medics attending, Scarborough Sealife, Scarborough Council, North Yorkshire Police and all Officers, RSPCA, and Scarborough Harbour Masters incredible efforts to keep this juvenile walrus safe and undisturbed. Their positive actions have been an enormous achievement and hopefully will pave the way for such a response should it be needed again. We also extend our thanks to members of the public, kind local shops and businesses, members of the press, photographers and local fishing fleet who respected our restrictions with understanding and treated the organisations on scene with such dignity and respect.
Humberside Police Sergeant Jenna Jones (Operation Seabird national policing lead) who joined us on the day said: "Having starting Operation Seabird on the Yorkshire Coast to prevent disturbances to our seabirds & marine mammals it was an unbelievable privilege to support colleagues & volunteers ensuring Thor was healthy & undisturbed. I thank the public for keeping your distance & all your questions. You certainly tested my walrus knowledge! In 2023 I look forward to continuing to work in partnership with BDMLR for the benefit of our marine wildlife"
Photo credit Bethan Clyne (BDMLR Marine Mammal Medic)