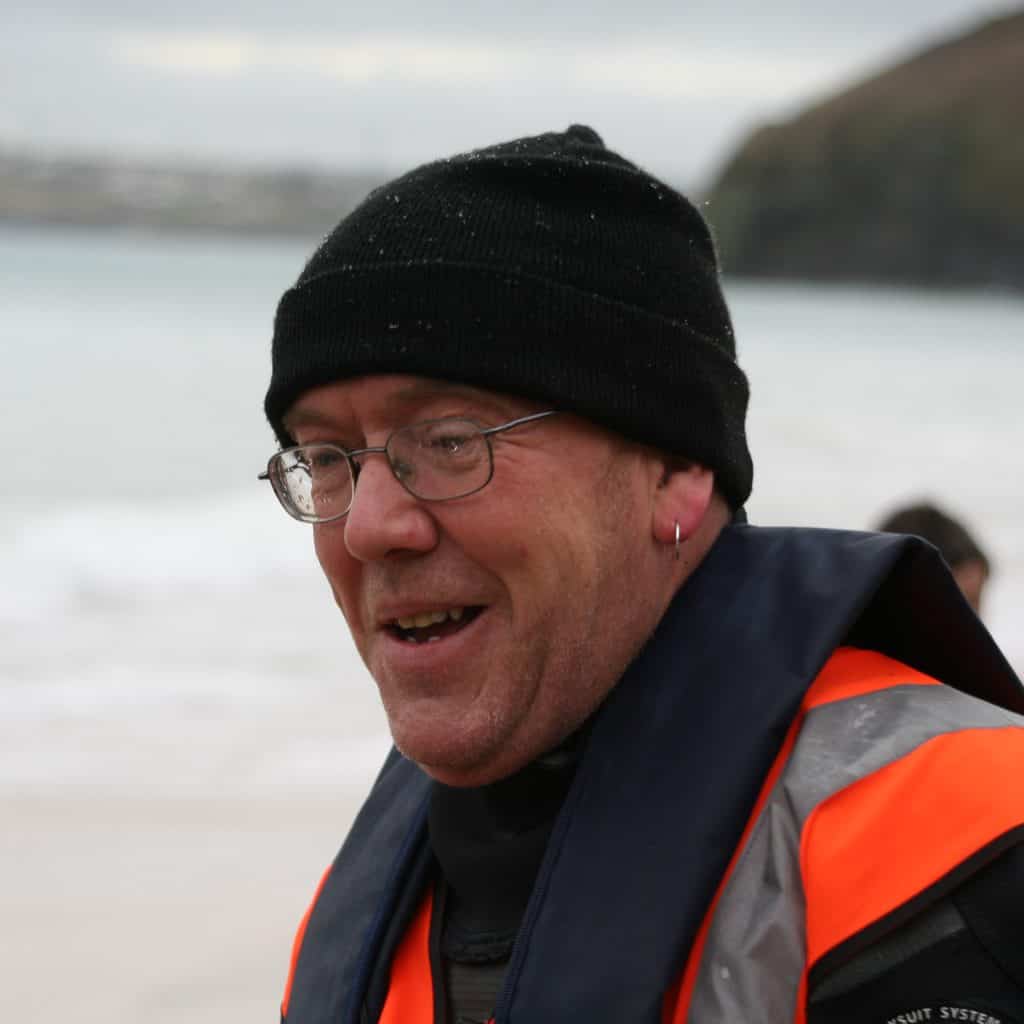 In life you sometimes meet a person who could be identified as being a 'character' and will always be remembered because of that. Apart from a passing likeness to Eddie in the Bottom TV programme, that is probably how many of us will remember Tim. He was essentially a private, quiet, unassuming man and preferred to keep a low profile, but when it came to rescuing an animal that was in distress, then he was always at the front of the queue and that often meant an adventure of some sort.

Tim Bain joined British Divers Marine Life Rescue (BDMLR) in 2000. The charity does not have many members that could claim to have been at Harrow School, but Tim was. He worked there as a gardener. In 1995 he moved to Cornwall and said that for a time he lived in tent. His involvement with BDMLR was at a time when things were a lot more fluid and relatively quieter than they are these days and he was mainly involved in the St Ives area. This also meant him looking after Alfie, who was an adult grey seal that took up residence in the harbour. Tim would tell stories of what this animal got up to and how it was decided that he would have to be moved elsewhere. Alfie was captured and moved up to Lundy Island, which was in the animal's best interests, except that he didn't see it that way and three days later he was back in St Ives!

For several years Tim fought a lone battle in St Ives with what we all now know as marine litter. He worked as a beach cleaner, mainly on Porthmeor beach. He was very proud of his patch and would be there from dawn until dusk to keep it spotless.

In 2003, he was appointed as an Area Coordinator in Cornwall for BDMLR. He was also instrumental in the setting up of what is now known as the Cornwall Wildlife Trust Marine Strandings Network (CWTMSN) and Cornwall Seal Group Research Trust (CSGRT), where he was more involved in the practical issues rather than academic matters.

Tim could be a nightmare! He didn't have any transport, he couldn't drive. This inevitably meant he had to be collected from St Ives and transported to a location. He would also ring and say 'ring me back, got no credit'. But we always forgave him as soon as the car door opened, he jumped in and said 'Wos on?' and started rolling his cigarettes. Tim would also somehow get hold of the latest in technical gizmos and gadgets, such as an underwater camera or a GoPro camera, which is where a lot of his footage on YouTube came from.

Over the years he was involved in many incidents. These included a leading role at the mass stranding of common dolphins in Falmouth in June 2008, the rescue and relocation of a mother and calf pair of common dolphins on The Lizard the same year, the baby humpback whale at Godrevy in 2010 and also the rescue of Marra, a solitary bottlenose dolphin that was trapped in a harbour in Maryport, Cumbria. The latter came about in January 2006, when a team of four medics from Devon and Cornwall were requested to assist with a potentially hazardous ongoing situation in an enclosed harbour location. The media footage is still available on the internet, but it's noticeable that Tim is not wearing his glasses. This was because they were now at the bottom of the harbour. It was at this point that co-rescuers Doug Cartlidge and Dan Jarvis discovered just how bad Tim's eyesight was without them, when he commented: 'what dolphin?'.

Of course, Tim was also involved in numerous seal rescues and he was one of the few people who had been trained in the art of stomach tubing pups. This also involved the use of the rescue cage that he had acquired. It was made from steel tube and weighed 28kg when it was empty and, therefore, about 50kg when a pup was in it. This was in the days perhaps before health and safety rose to the top of the agenda and seal bags had been invented. That cage was carried for miles on rescues. But, of course there had to be more than that to it and if a pup needed temporary accommodation following a late night rescue, then it was off to Tim's flat, which was in itself a major exercise. Tim lived in a first floor flat of a courtyard, off an alleyway near the harbour in St Ives. The staircase was only a few inches wider than the cage and the door to his flat at 90 degrees to the stairs. The seal was kept in the shower, which was in a tiny room in the corner of the flat, so the cage was tipped up on end to get it in and the shower door wedged firmly shut with a broom. This was the easy part! The seal then had to be loaded back into the cage to be moved on the next morning, but how to do it? Tim developed a technique of wrapping the pup in a towel, doing a backward roll with it in his arms and then extending them to neatly drop it back into the cage behind him. Such was his ingenuity.

In the past few years, Tim's health began to deteriorate, and he found it impossible to assist with rescues, which saddened him greatly. Then in 2018, a lady called Jackie Wolfe, who also lived in St Ives, died suddenly. She used to keep an eye on him and let us know if he needed help.

We found out about his condition on the morning of 9 May 2020, which was his 57th birthday. We tried to ring him, he answered and we spoke very briefly with him and he said he would call back later, but we knew he wouldn't. We sent him a message, that hopefully he read;

'Hi Tim, sorry to hear that you're not so good. We were thinking about you only the other day and we just wanted to say thank you for all you taught us and all the amazing adventures we've had together saving animals around the coast. We've seen and done things that we'd never thought we'd do and that's all down to you. With all our love Les, Dave and the animals xx'.

The world is a poorer place without him today, but we need to remember all of the animals he gave a chance to live over his many years of rescuing them.