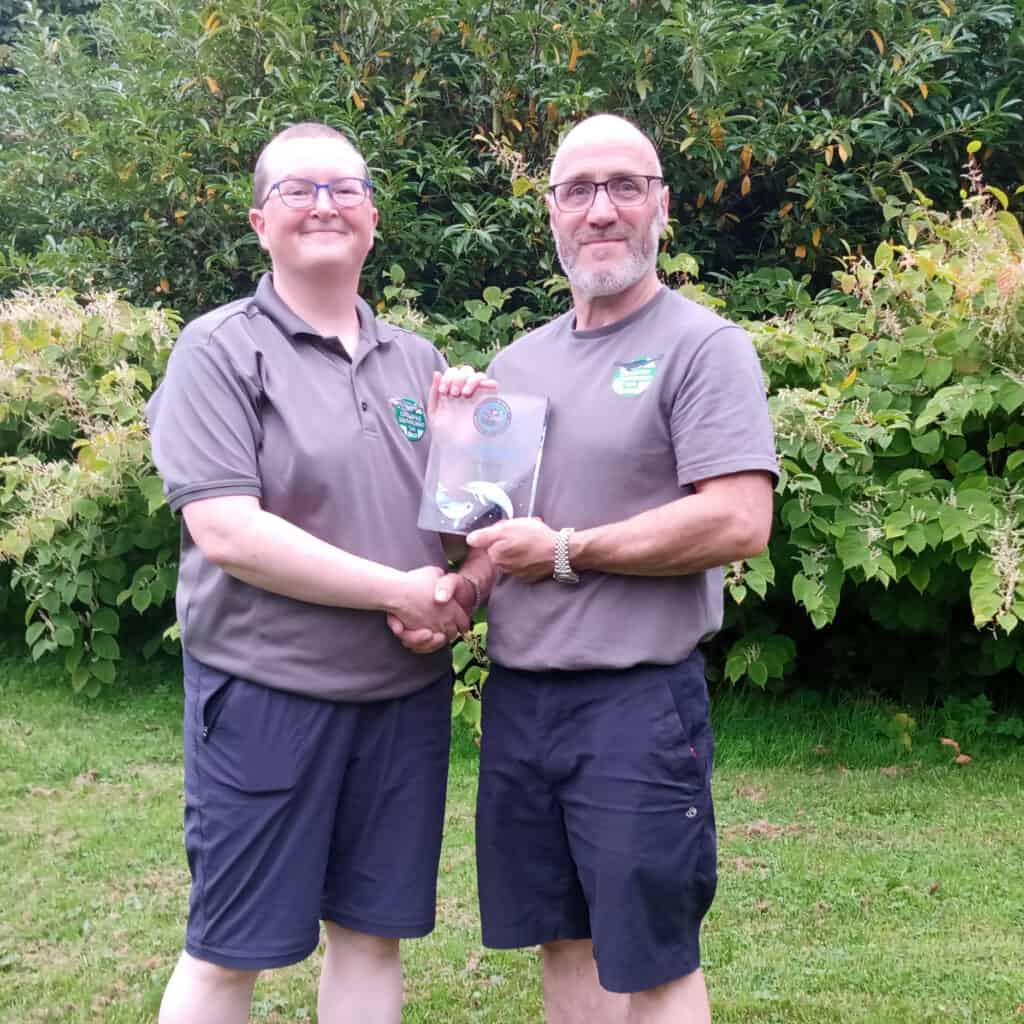 BDMLR's Moray and Banffshire Area Coordinator Cath Bain has been awarded a prestigious Outstanding Contribution to Marine Mammal Rescue Award by BDMLR's Trustees. She was presented the award by BDMLR Director and Trustee Martin Boon (Boonie).
"I first met Cath on her initial Marine Mammal Medic course, in 2011," says Boonie. "Her first rescue was the mass stranding at Pittenweem. As a local Medic she was asked to check on a report of some dolphins on the beach. On arrival it became apparent they were pilot whales and there was more than a few, she reported this to head office and so started a very long day."
"Not deterred by this she has dedicated her time to BDMLR, with a move to Lossiemouth she took over as Area Coordinator for Moray, this then became Moray and Inverness until a new Coordinator for Inverness was appointed a couple of years later. She has helped in Moray Seal Rescue Unit, helped set up training for Medics wishing to learn how to tube seals in the unit. She was asked to be National Equipment Officer and has, with help, set up a lifejacket maintenance programme. She has ensured all areas have their minimum equipment requirements and has helped other Coordinators get extra kit. She's arranged stalls and carried out demonstrations at fates and shows. She is part of the Large Whale Disentanglement management team, helping with training and logistics, ensuring personal contributions towards accommodation are collected and sent to central funds. She is also an instructor for MMM courses and spends many weekends spreading the word and talking about the charity."
"Cath has an enthusiasm that is infectious and her willingness to help others makes her a worthy recipient of this award."
Congratulations Cath and thank you for your hard work.
The Outstanding Contribution to Marine Mammal Rescue Awards (or Trustees Awards for short) are chosen by BDMLR Trustees Alan Knight, Mark Stevens, Geoff Hammock, Faye Archell and Gavin Parsons and presented to Medics who have gone above and beyond for the charity and demonstrated a dedication to helping the marine environment in a positive way.
This year there are 10 awards, however, due to the nature of the charity and the number and spread of directors and trustees not everyone will be presented at the same time, so over the coming weeks you will see who has received an award.