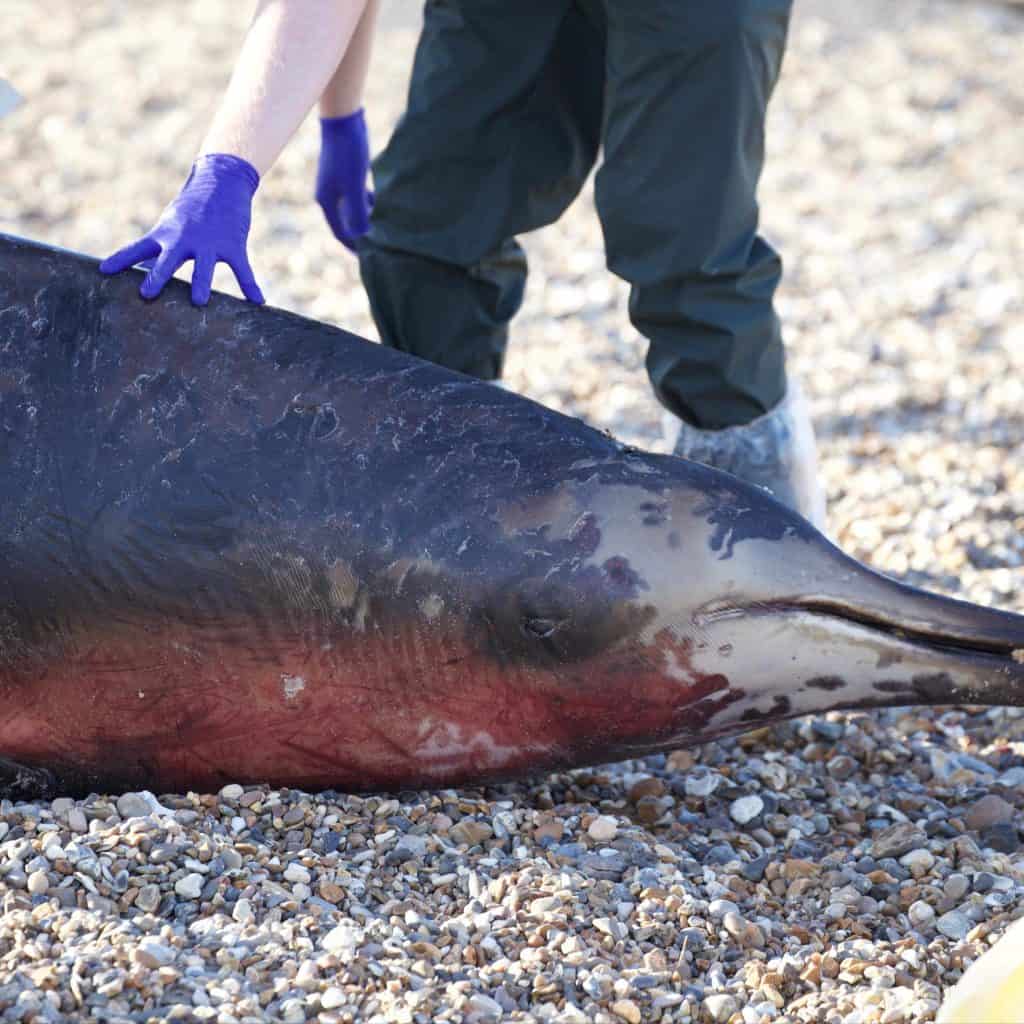 This weekend we had two separate incidents involving Sowerby's beaked whales becoming live stranded in England.

The first of these incidents was first reported at Caister, Norfolk, on Friday. However it was pushed back in by a member of the public before anyone was able to respond. Unfortunately what was quite likely to be the same animal was then found washed up dead at Lowestoft, Suffolk, the following morning. It was a sub-adult female measuring 3.8m long. Our colleagues from the Cetacean Strandings Investigation Programme attended to carry out a full post mortem examination over the weekend.

At 6:30am on Sunday we then had another call to our hotline regarding a live stranded Sowerby's beaked whale near Portsmouth, Hampshire, which sadly died very soon after being found. This was also a young female. Again the team from CSIP attended and have been able to take some samples as a full PME was not possible in this case.

Interestingly we have been hearing reports of both Sowerby's beaked whales and northern bottlenose whales in the southern North Sea recently, and we are concerned for these animals as they are in completely the wrong habitat. These species are specialist deep-divers that normally live beyond the continental shelf edge far off the west coast of the the UK and Ireland. When found in the North Sea there is often very little that can be done for them as the shallow depth means their ability to forage is severely impaired and they are likely to already be in a compromised state of health.

It is due to the unique geography of the region that makes this region a natural trap for whales like these, and it is entirely likely that these animals end up here completely by accident. Of course the timing and geographical distance between these incidents may give other possibilities such as underwater noise sources some plausibility, however we will wait for further news from CSIP on their findings rather than speculating further without any facts or evidence.

It is worth noting that BDMLR and CSIP have a very good relationship with the British Navy, with direct lines of communication to respond to incidents where noise may be a factor to help us get the animals get back out if possible when circumstances allow. This protocol was set up following a mass stranding of common dolphins in Cornwall in 2008.

We would like to thank all BDMLR Medics, emergency services and the CSIP team for their involvement in these two incidents.

Photo: Phil Coles.