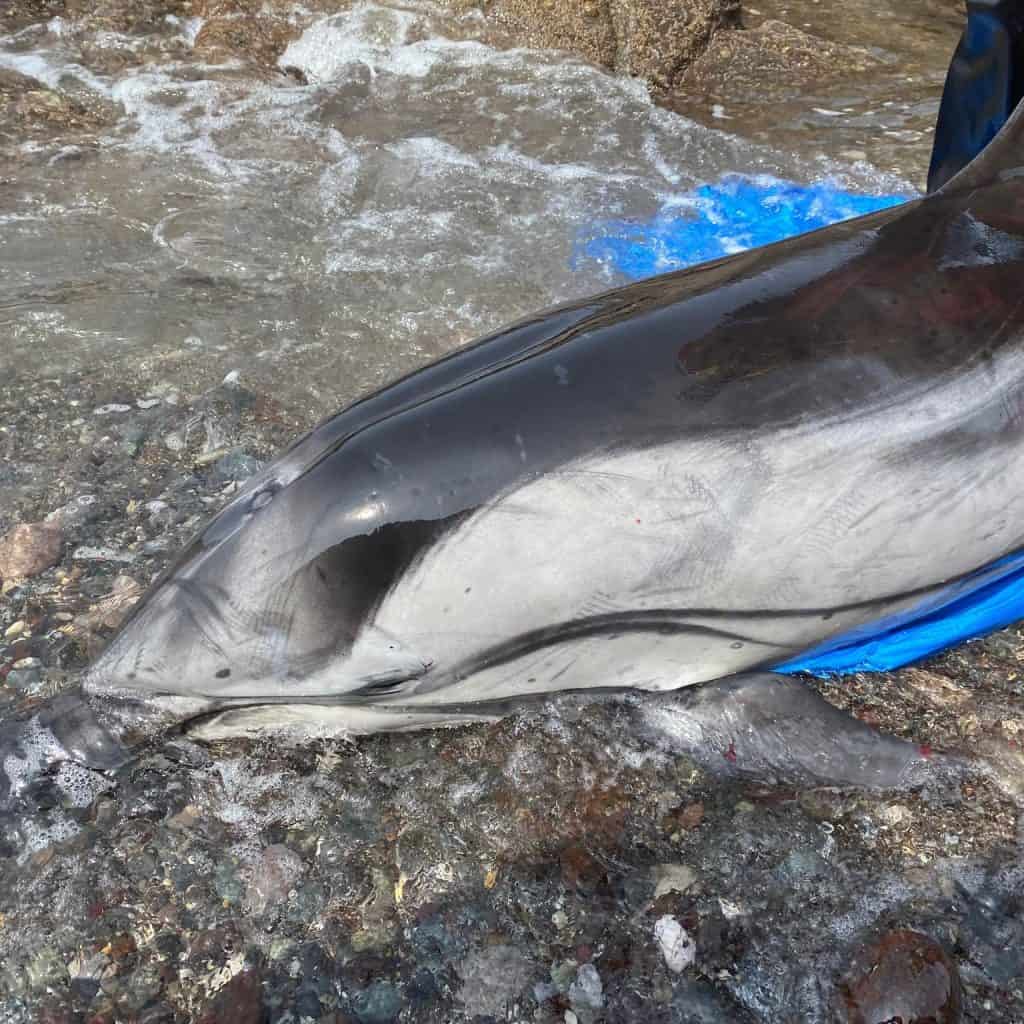 At the end of last week we have responded to the live strandings of two striped dolphins in South West England, a warmer-water species usually seen further south in the Bay of Biscay, but occasionally recorded in the UK.

The first animal was found at Bar Point, on the island of St Mary's, Isles of Scilly, on Thursday 28th April. Our volunteer team on the island responded along with the Isles of Scilly Wildlife Trust to support them. It was a male measuring 2.31m, so a relatively older animal. It did refloat but soon restranded in a very difficult spot on boulders further around the coast where it sadly died shortly after. Today, a huge effort by volunteers from both organisations, Cornwall Wildlife Trust Marine Strandings Network and Isles of Scilly Travel ensured this animal's body was able to be retrieved and transported to the mainland for a post mortem examination with the Cetacean Strandings Investigation Programme where we will be able to learn lots more about what was going on with it.

Then on the afternoon of Friday 29th April a second striped dolphin was found stranded alive in a remote location near Lizard Point, Cornwall. Mullion Coastguard Rescue Team attended along with BDMLR Medics and found another male, this time slightly longer at 2.38m. Unfortunately it was in poor nutritional condition, a strong indicator of declining health over a long period of time, and a mouth infection was also noted. Due to this the animal had to be put to sleep by a vet from local practice Head and Head Veterinary Surgery on welfare grounds to relieve it from further suffering. Again a massive effort then ensued between BDMLR and CWTMSN to uplift the body for examination by CSIP in the aftermath.

There was a huge amount of great teamwork going on between many organisations throughout these incidents, and we would like to share a big thank you from ourselves for all their help and support, as well as the volunteers in the BDMLR team who faced very difficult circumstances at both incidents owing to the locations involved yet rose to the occasion admirably.

Photos: Lucy McRobert, Dan Jarvis.